April 28, 2020 Update - Yes We're Back!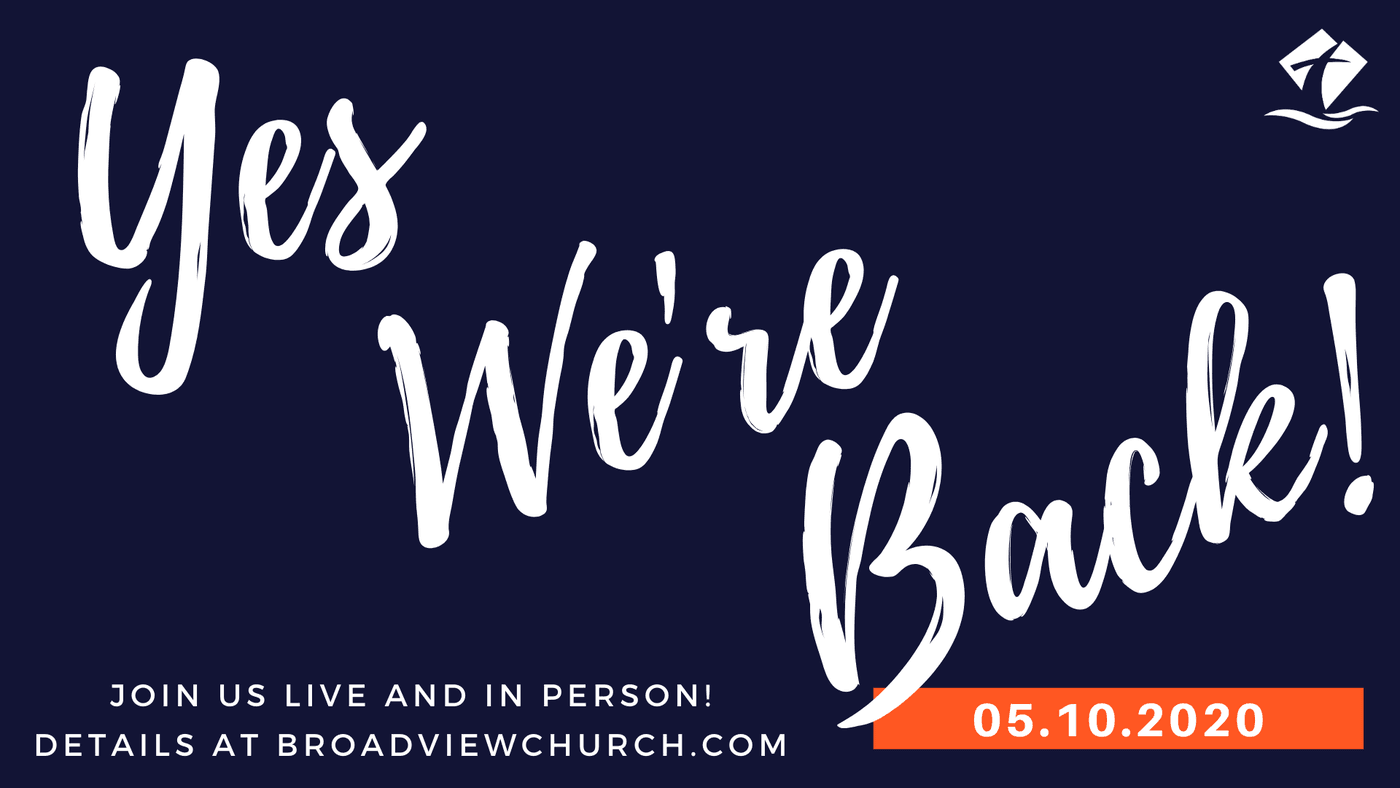 From the desk of Dr. David Rhoades, Senior Pastor of Broadview Baptist Church:
Broadview Church in Lubbock will reopen on May 10 for Sunday morning worship only at 10:30am.
FAQ:
"Will I have to touch an offering plate or Lord's Supper plate that has been touched by other people?"
No. We are adjusting the manner in which we receive offerings and partake of the Lord's Supper. We are installing four secure Connection Card and Offering Boxes on the walls into which people may deposit their offerings. Two boxes will be at the exits of the Worship Center, one box will be in the foyer, and one box will be near the entrance to the office. You now have the option to give:
Online at broadviewchurch.com/give
By dropping your offering in a Connection Card and Offering Box
By mailing your offering to the church. (We now have a new, more secure mailbox.)
"Should I attend church if I am over 65 years of age or have a weakened immune system?"
According to the guidelines released by President Trump and Governor Abbott, if you are over the age of 65 or if you have a weakened immune system, you are strongly encouraged to remain at home and participate in worship online. Videos of our worship services will be posted at broadviewchurch.com. The decision to attend worship in person, however, is yours.
"I may not be able to attend church right away. Will you continue to provide an online video of your sermon?"
Yes, although it will be slightly different than our current practice. Instead of my sermon being delivered from my kitchen and posting it online on Sunday morning, a video will be made of our worship service each Sunday and posted online within a few days.
"If I choose to attend worship, what precautions should I take?"
All worshipers should practice social distancing and other hygienic practices:
Refrain from hugging or shaking hands.
Maintain a distance of at least six feet from people other than your family.
Please avail yourself of the hand sanitizer stations we installed in January as needed, and please wash your hands and face often.
If you wish, you may wear a mask.
On a personal note, my wife Amy works in close proximity to a large number of medical patients every week. Due to her exposure to patients with symptoms similar to COVID-19, and out of an abundance of caution, Amy will not be attending church at this time. Likewise, I will not be shaking hands or giving hugs to anyone at church. Please understand that this is done out of concern for the well-being of each of you.
"Will a nursery be provided?"
Not at this time. You are welcome to bring your children of any age into the Worship Center with you.
"Will donuts and coffee be served?"
Not at this time. You are welcome to bring your own coffee with a secure lid.
"Will Sunday School classes meet?"
Not at the church campus. Sunday School teachers may, at their own discretion, make arrangements to meet in a different way. For example, some classes may want to meet via:
Video conferencing, using a service like Zoom
Teleconferencing
Off campus, in-person meetings, while still practicing social distancing
"Will other activities be scheduled?"
Not at this time. We will not have in-person committee meetings, LifeGroups, or weekday activities. This means that Prayer Meeting and Forge Youth Group will not meet right now.
"Will the bus ministry to Brookdale Shadow Hills resume?"
Not at this time.
"Will pastoral and deacon visits to senior living facilities and hospitals be resumed?"
Not at this time.
"What is the criteria by which these decisions are made?"
I am following the guidelines released by President Donald Trump's "Guidelines for Opening Up America Again," Texas Governor Greg Abbott's "Governor's Strike Force to Open Texas," and Gov. Abbott and Attorney General Ken Paxton's "Guidance for Houses of Worship During the COVID-19 Crisis." We are currently in Phase One of the recovery from the COVID-19 crisis. As we enter Phases Two and Three, additional temporary restrictions on our liberties will be lifted. For example, visits to senior care facilities and hospitals may resume when we reach Phase Three.
"What Christ-like qualities should I practice at this time?"
Put others before yourself. "Do not merely look out for your own personal interests, but also for the interests of others" (Philippians 2:4).
Patience. "Better is the end of a thing than its beginning, and the patient in spirit is better than the proud in spirit" (Ecclesiastes 7:8).
"Is there any practical thing I can do at this time?"
We want to create a Cleaning Crew who will wipe down areas of the church building that people have touched each Sunday. If you are interested in helping, contact me at david@broadviewchurch.com.
Please continue to support Broadview financially and with your prayers. Your faithfulness during this time has been amazing!
God bless you! Stay in step with the Spirit!
Dr. David H. Rhoades
---
April 7, 2020 Update - Easter Sunday Announcement!
Big Announcement! Easter Sunday is this Sunday! In addition to my Easter sermon being posted online at broadviewchurch.com, we will have an Easter Sunday worship service at Stars & Stripes Drive-In (Screen 1) at 10:30am!
Our worship service will be live on a stage outside while you stay comfortably seated in your vehicle listening along on an FM radio station—just like at a drive-in movie!
Here's what you need to know:
Our service will be at Screen 1, the first screen to the left.
Restrooms will NOT be available, and there will be no playground access.
When you arrive, tune in on your car radio to 91.3 FM.
Unless you have been asked by me or Pastor Gary to serve in a specific way, you must remain in your car. Pursuant to Texas state code § 418.173 regarding Emergency Management Plans, failure to abide by this could result in a fine of $1,000 or six-month jail term.
I look forward to seeing you at Stars & Stripes Drive-In (5101 Clovis Rd.) to celebrate the resurrection of the Lord Jesus Christ. Again, if you cannot make it in person, my sermon will be posted at broadviewchurch.com by Easter morning.
In Christ,
Dr. David Rhoades, Senior Pastor
---
May 28, 2020 Update
This Sunday we have expanded our online video experience for you to include our Praise Team, a Children's Sermon (thank you, Krista!), and my sermon. All of this, as well as a sermon devotional, can be found at https://broadviewchurch.com/worship-online.
The question that is on everyone's mind is, "When will things return to normal?" This includes returning to church. Will we be able to have church on Easter Sunday? We do not know. Unfortunately, we do not currently have a time frame when we will be able to gather together on the Broadview campus. Lubbock Mayor Dan Pope and his staff have done a good job of communicating with church leaders. I will continue to listen to the mayor, our governor, and other officials in the days ahead. Please pray for wisdom for all in decision-making positions.
I would ask you to read my article at broadviewchurch.com/be-the-cure. Prayerfully consider covenanting with me to "Be The Cure" so that we can do all we can to move beyond the coronavirus pandemic.
Let me express my sincerest gratitude for your faithfulness in giving. You can give on any page of our website by clicking the icon on the left of the screen. If you don't see the icon, go to broadviewchurch.com/give. Of course, you can also mail your offering to our address below. In the next few days, we plan to install a new mailbox that will be more secure than our current one.
Thank you most of all for your prayers. This week, Pastor Gary & I attempted to call each of our senior adult families and individuals on the phone to check on them. I'm pleased to report that everyone seems to be adjusting well to the new (temporary) reality of living through a pandemic. If you have a need or are aware of someone with a need, please let me know so that we can respond. Our church family has always made every effort to assist one another, and this remains true during this current crisis. In fact, I have had far more members tell me that they are ready to help than I have members who needed help. This speaks to the generous and sacrificial nature of the Spirit of God within each of us.
God bless you!
Pastor David Rhoades
---
May 19, 2020 Update